Section titled anchor_for_block_73e379deb53cd5777bd831d2f0e5e63c
The Health and Care Bill came into effect on July 1, 2022, requiring all NHS systems in the country to transition to Integrated Care Services (ICS). Each ICS consists of an Integrated Care Board (ICB), which is the new statutory body, and Integrated Care Partnerships (ICPs), which deliver localised solutions.
This shift means that healthcare will be more targeted and local, with the NHS working alongside local authorities and other organisations to deliver services.
Section titled anchor_for_block_2ae804193aa32350a730565edb0003ff
THE BRIEF
Bison Grid was commissioned to design and build a new website and intranet for the Bristol, North Somerset, and South Gloucestershire (BNSSG) Clinical Commissioning Group and six Integrated Care Partnership (ICP) websites.
We worked with our creative design partners at Herd Group to understand what end users and site administrators liked and disliked about the usability and design of the existing website. This feedback helped us to define our design recommendations and the agile approach to the build.
All design and user experience focus was heavily on the end users, ensuring high levels of empathy at every interaction. We also built a fully flexible modular CMS that allows the NHS digital marketing team to effortlessly populate content.
The website and intranet were built with a fully flexible modular CMS that allows digital marketing teams to effortlessly populate content. The CMS is robust and easy to use, and allows those with little to no experience to add and manage their content, including the ability to add iFrames, videos, PDFs, and images.
We created a website that is responsive, allowing for content to flow across all screen sizes. The website also includes automatic language translation and AA accessibility standards.
Section titled anchor_for_block_b73c6fc883f434e90668d0e92ab321b6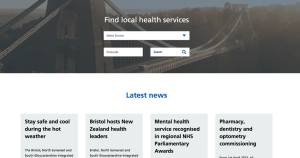 THE SOLUTION
A new user interface that comfortably adapts to different screen sizes, especially mobile, which accounts for 60% of traffic.
Website compatibility that ensures the site works well with different browsers, especially Safari, Chrome, and Edge, which jointly account for almost 90% of traffic.
Improved user accessibility by 26%.
A 40% uplift in site performance.
Increased organic SEO performance by 25%.
Improved page speed from 1.6 seconds to 1.3 seconds.
Integration with Microsoft Office 365 and Google Analytics 4.
Data collection and management, including data and enquiry capture functionality, surveys, and complex surveys.
SEO functionality, including the creation of rich snippets/schema meta data and redirections.
Integration with Google Analytics 4, Search Console, and Tag Manager.
Robust search functionality to find NHS services in a particular area.
Section titled anchor_for_block_e97f69f59d729c7a6cb90fdf0993ce5e
THE OUTCOME
The new website and intranet for the BNSSG Clinical Commissioning Group and six Integrated Care Partnerships have been a success. They are more user-friendly, accessible, and efficient than the previous websites. The new websites also meet the needs of the ICSs and their stakeholders, and they are well-positioned to support the delivery of healthcare services in the Bristol, North Somerset, and South Gloucestershire area.
Learn more about our services and how we can help you with your next development project.
WHAT OUR CLIENT SAYS
We're really impressed with the website including its streamlined usability, easy to use drop down boxes and its carefully considered colour schemes. Their flexible and adaptable approach to the service needs was hugely appreciated especially with regards to deadlines. The team provided clear instructions, teaching and videos on how to manage the website. All queries, feedback and requests for support were answered promptly and effectively.
NHS (Healthier Together Support Network)
Tamsin Mauri - Project Manager