Section titled anchor_for_block_64e285b7ad1992824d9eda0e65993546
Our checklist
Getting things right the first time always helps to create a smooth experience for all parties involved in the process of launching an Ecommerce website.
Product pages
High quality product images along with detailed product descriptions and customer reviews are what peaks a customer's initial interest in products. Therefore, it is important that your Ecommerce website facilitates this on your product pages.
Support pages
Ensuring that your Ecommerce website has support pages such as a privacy policy page, a refund page and contact pages will lead to brand transparency and will not only keep things simple and clear for your customers but having these pages on your Ecommerce website will also found trust between you and your customer base.
Checkout process
Having a simple, user-friendly checkout process on your Ecommerce website that has multiple working payment gateways will reduce the chance that customers will abandon their cart.
In addition to this, also taking into consideration other factors as to why customers abandon their cart will help improve your conversion rate. Here is an info-graphic showing the 'Reasons for abandonments during checkout'.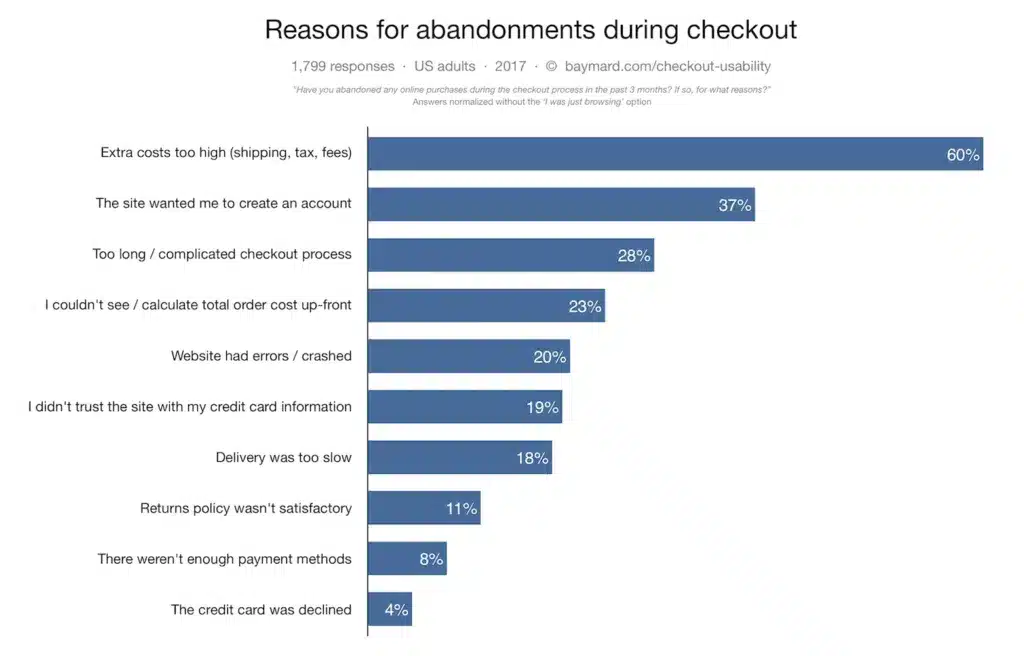 Info-graphic Baymard
Analytics and tracking
Having analytics and tracking tools setup on your Ecommerce website will allow you to monitor how well your website is performing and will then allow you to review your website in order to optimise organic traffic and conversions.
Here are some analysis tools to consider installing on your website:
Google Analytics (User Analysis)
Google Tag Manager (Events and Goals Tracking)
Google Optimize (A/B Page Testing)
Marketing
Creating a marketing strategy before your Ecommerce website goes live is key to ensuring that your website hits the ground running on launch day and reaps the traffic that you desire.
The most common lead generation tools you will want to create a marketing strategy for are:
Inbound Marketing (Blogs, Videos)
PPC Marketing (Pay Per Click Advertising)
Social Media Marketing (Twitter, Facebook, Instagram)
Security
Customers have often read about the rise of credit card fraud and online scams and therefore, there are a substantial amount of customers that are concerned about purchasing online from an Ecommerce website.
The way to reassure customer confidence is through having a padlock (SSL certificate) on your website's URL bar. Most users see this padlock and instantly feel reassured that their payment details and personal information will be sent over a secure, encrypted connection.

Conclusion
In summary, before your Ecommerce website goes live, checking that your Ecommerce website supports the customer through the entire buyer journey, from initial interest, to gaining trust, and finally to converting into a purchase, is critical to ensuring that your Ecommerce website has a successful launch.
References
https://www.cloudways.com/blog/ecommerce-website-checklist/
https://www.ecommerce-nation.com/6-reasons-customers-abandon-their-carts-and-how-to-prevent-it/
https://www.shopify.co.uk/partners/blog/reasons-for-an-abandoned-cart
Want to know more?
Call +44 (0) 1489 890 460