Section titled anchor_for_block_7c2f94f222f77eacab2bc10a1f9533f9
Vygon (UK) Ltd is a leading supplier of single-use medical and surgical products to the NHS. Their previous website couldn't keep up with the demands of the business. Following a deep-dive, to understand core sales and business processes, Bison Grid built a new website tailored to the needs of both the customer and business. This resulted in better operational efficiency, an increase in sales and better Google rankings
Section titled anchor_for_block_c8fc186e2a767006b830ad3673832948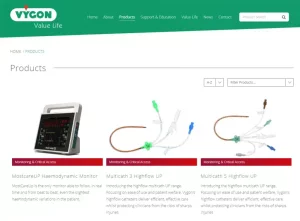 OUR BRIEF
Vygon (UK) Ltd is a leading supplier of single-use medical and surgical products to the NHS. Their previous website couldn't keep up with the demands of the business. Following a deep-dive, to understand core sales and business processes, Bison Grid built a new website tailored to the needs of both the customer and business. This resulted in better operational efficiency, an increase in sales and better Google rankings
The Vygon website is a vital tool used to facilitate the purchase of vital medical equipment by the NHS. However, the website was unable to efficiently support such a diverse product catalogue.
For the team managing the website, loading the product catalogue was manual and very resource intensive, involving multiple imports of excel spreadsheets from the stock management system to the CMS (content management system). Products didn't always display correctly, not always showing the full product information which was needed by both the Vygon sales team and the medics purchasing the products.
Furthermore, and the search function wasn't working properly, so the sales team and customers could not find the products they were searching for. In short, the site was bad for the customer and bad for the company, costing time and losing potential sales.
Section titled anchor_for_block_1d18c9872dec0ae509983309d05b0db9
THE SOLUTION
Bison Grid rebuilt Vygon's website from the ground up, tailoring it to the needs of both the medics and the sales team.
To design the optimal website, Bison Grid had to immerse themselves into the business, conducting a deep-dive into Vygon's business and sales processes. This knowledge helped Bison Grid take a diverse and complex product range and re-organise it into a more manageable website.
A simple process was established to upload products from the stock management system to the website, making the process smoother and more efficient. The product pages were rebuilt, so that enhanced product information, technical specs and video could be displayed.
Finally, the search function was improved, helping both medics and the sales team locate specific products more easily.
Section titled anchor_for_block_9828fb9a054cf6cfcbe8e0846010a9b3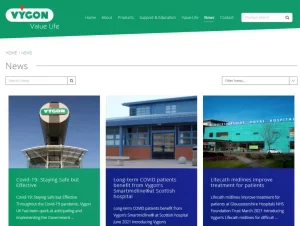 THE OUTCOME
The new website had a vastly improved user experience with enhanced product information and a functional product search facility, enabling both medics and sale teams to locate products more effectively.
Efficiencies made to the product upload process freed up the digital marketing team to spend more time analysing website performance and optimising the website. This was further supported by the comprehensive tracking and analytics package set up by Bison Grid.
Consequently, Vygon saw an increase in sales, better website performance and higher Google rankings.
WHAT OUR CLIENT SAYS
"I have worked with Tim and the team at Bison Grid for the last 4 years and they are a great bunch. Things get done when asked, never any issues and they always keep up to date with the latest technical requirements meaning I'm confident our websites are in safe hands. They also have great contacts within in industry so have enabled us to develop our digital strategy through other partnerships."
Vygon
Emma Marsh - Marketing Manager