Section titled anchor_for_block_a690bc0816a8164c9e17f7744ea043ec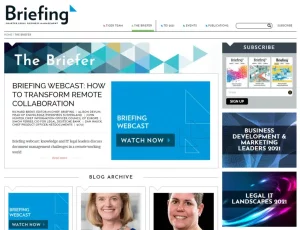 THE BRIEF
The Burlington Media Group commissioned Bison Grid to build a website for 'Briefing', a new legal sector publication and events brand. In just 3 years, the website became the most successful publication in the Burlington Media Group and a well-known brand within the legal community
The website had to be built from the ground up and needed to support the brand's core revenue streams (advertising, publication sales and events).
Section titled anchor_for_block_67576ec5b9d3f00ee9b5587b6a3b33cd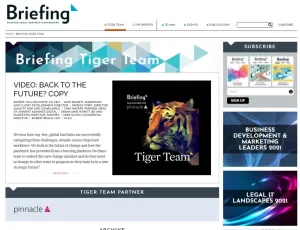 THE SOLUTION
Bison Grid took the time to understand the platform's revenue generating pillars (advertising, publication sales and events) in order to learn how the website could best support them.
Bison Grid used this research to build an integrated, bespoke system that included:
A sophisticated modular content management system
An advertising management system
Analytics and tracking (including email tracking)
Events management (including an events calendar and events content)
An email marketing system that would support the sending of PDFs (which most email platforms don't)
Integration with SalesForce CRM – to enable the sales team to follow up leads
Bison Grid created a prototype that enabled the client to ensure the functionality was fit for purpose, before the website was built.
Bison Grid also made sure the site was flexible so it could evolve over time.
Section titled anchor_for_block_839867c7bb8339654e8cd148799cb8a1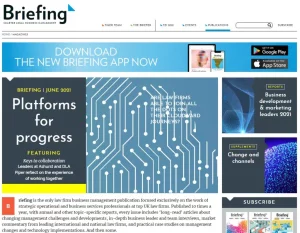 THE OUTCOME
Over three years, the website has grown into the most successful publication with the Burlington Group as well as leading brand within the legal community.
WHAT OUR CLIENT SAYS
"Our business has grown consistently over the last 5 years and Bison Grid have been an invaluable partner on this journey. We trust their judgement when advising us the right technology strategy for the business and enjoy the benefits of great service in relation to outsourced support."
Burlington Media
David Sparkes - Director